Creative Sparks and Supportive Bonds: How Alexandra Grant and Keanu Reeves Fuel Each Other's Careers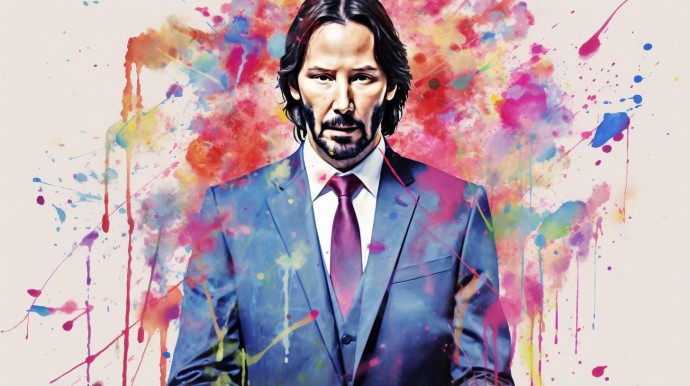 In a candid conversation at the recent Los Angeles Beverly Arts Icon Awards, visual artist Alexandra Grant opened up about how she and her partner, Keanu Reeves, play an influential role in each other's creative and professional lives. Grant expressed her admiration for Reeves' ingenuity and kindness, stating that both of them constantly encourage each other to venture into unexplored territories. According to her, witnessing Reeves' problem-solving capabilities serves as an immense source of inspiration.
Grant, who is 50, shed light on how the 59-year-old Reeves has had a positive impact on her artwork. A friend had remarked years ago that her art seemed to exhibit a newfound joy. Grant confirmed that this observation aligns with her own experience, attributing the shift to the happiness she derives from her relationship with Reeves. She affirmed that the emotional state of an artist could certainly influence the tone of their work, given that all artists are humans driven by emotion.
Beyond the personal sphere, Grant has been a pillar of support for Reeves' own artistic pursuits, particularly in the wake of the ongoing SAG-AFTRA strike. This labor action, initiated by actors in July, has stirred the entertainment industry. The actors are demanding a hike in their base salaries to combat the erosion caused by inflation and shifts in the streaming landscape. Additionally, they are asking for regulatory measures concerning the use of artificial intelligence, enhanced benefits, and monetary compensation for self-taped auditions. Another pressing issue for the actors is the demand for a performance-based compensation structure for streaming TV shows and movies.
Amidst this tumultuous atmosphere, Reeves made a return to his musical roots by rejoining his band Dogstar for their first live show in over two decades. Dogstar, which also includes musicians Bret Domrose and Rob Mailhouse, was part of the lineup for the BottleRock Napa Valley music festival in northern California. The band has since maintained an active performance schedule and even teased some music from their forthcoming album, titled "Somewhere Between the Power Lines and Palm Trees."
Grant couldn't contain her excitement about Reeves' musical journey. She identified herself as an ardent Dogstar fan and spoke fondly of her experience at the band's first public gig after their hiatus. She had been listening to Dogstar's latest album and was possibly the only person in the audience who knew all the lyrics, an experience she described as "really cool." She expressed her delight that Reeves has the versatility to successfully switch his focus to music, especially during the ongoing strike affecting the acting community.
The essence of the couple's relationship seems to hinge on mutual respect and an ability to inspire each other in their respective creative ventures. In times when the entertainment industry is grappling with multiple challenges, the duo offers a heartwarming example of how personal relationships can serve as a reservoir of strength and inspiration.