Hollywood's Sweethearts Unwind with Furry Friends: Tom Holland and Zendaya's Heartwarming Date at an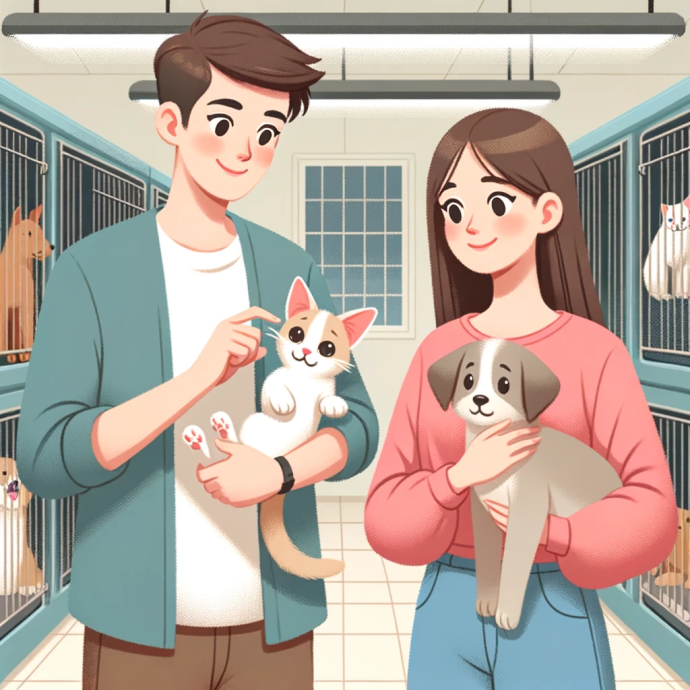 The Hollywood power couple of Tom Holland and Zendaya recently melted hearts, not on the big screen, but in the rather down-to-earth setting of an animal shelter. Holland delighted his Instagram followers this past Thursday, October 5, with pictures that offered a behind-the-scenes look into his special date with Zendaya at the Battersea Dogs & Cats Home in London.
The pictures featured Holland getting down on his knees to shower affection on some adorable puppies. Another attention-grabbing photograph showed Zendaya holding one of the dogs in her arms, looking utterly smitten. Holland kept his caption simple, expressing his feelings with just one word: "Puppies."
As they interacted with the animals, the couple was mindful of health precautions, donning hazmat suits and rubber gloves for the occasion. Zendaya later chimed in, showing her approval and support with some emoticons in the comments section of the post.
Battersea Dogs & Cats Home also expressed their gratitude towards the couple for their visit. Through their Instagram Story, the organization shared that the dogs and cats at the shelter thoroughly enjoyed their celebrity company, thanking Holland and Zendaya for taking the time to drop by.
Both Holland and Zendaya usually maintain a low profile when it comes to their personal lives, but they do treat their fans to glimpses of their relationship from time to time. Back in June, Zendaya celebrated Holland's 27th birthday with a serene photograph of him standing on a beach, looking into the sunset. She kept her feelings under wraps, letting a heart-eye emoji do the talking. In return, Holland celebrated Zendaya's 27th birthday last month by posting a series of delightful photographs that included the two walking their dogs together. One standout snap had Zendaya sporting snorkeling gear and giving the camera a thumbs-up, which Holland affectionately labeled as "My birthday girl."
Zendaya has previously discussed her perspective on maintaining public and private lives in her Elle cover story published this past August. She acknowledged that while certain aspects of her life are inevitably public, she retains control over what she chooses to share. She emphasized the importance of "protecting the peace" while also living authentically and not shying away from visibility.
Holland has also shared his thoughts on maintaining a private life, especially in a celebrity relationship. In a November 2021 interview with GQ, he expressed that he's always been steadfast in keeping his personal life away from the public eye. He mentioned feeling as if their privacy had been invaded, which is why both continue to keep certain aspects of their relationship under wraps.
In a world where public figures often find it challenging to strike a balance between personal and public life, Holland and Zendaya appear to navigate this tightrope with grace and authenticity, delighting their fans while maintaining their own sanctuary of privacy.