Create Custom Christmas Stickers and Icons for Your Marketing Campaigns Quickly with ChatGPT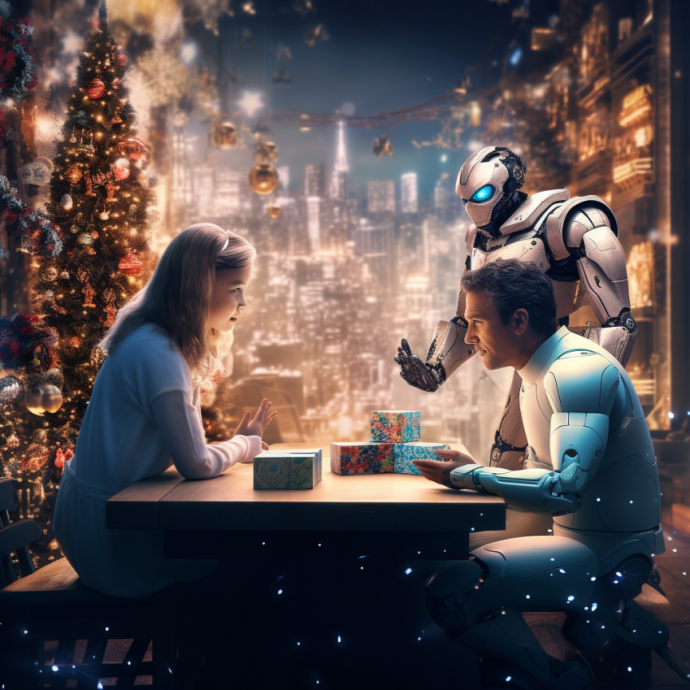 As the festive season twinkles on the horizon, the challenge of crafting delightful Christmas-themed icons and stickers for your games or marketing campaigns can feel daunting. But fret not, for the magic of ChatGPT is here to sprinkle some holiday cheer and creativity into your projects in less than six enchanting minutes!
Embark on this creative journey as follows:
✨ Initiate a fresh dialogue with ChatGPT, opting for the GPT-4/DALL-E 3 model.
Your magical prompt should go something like this:
"Hello! I'm dreaming of a set of sticker-sheets, brimming with vibrant colours and exuding a kawaii-inspired charm. Let's dive into a whimsical Christmas and winter wonderland.
Please include:
Christmas Decorations: Imagine an array of twinkling Christmas adornments nestled in feast-themed vessels, a jolly snowman donning a Santa hat, or a reindeer wrapped in shimmering LED lights.
Fantasy Fairytale Creatures: Picture elves, fairies, and gnomes, all busy crafting gifts or joyously preparing for the hallowed Christmas Eve.
Christmas Treats: Envision desserts and candies, each infused with the spirit of the festive feast.
Magic Winter: Bring to life scenes of merry Christmas trees, cheerful reindeers, or a dance of glistening snowflakes.
Aim for a palette that's bright and cheerful, but with a playful spooky twist, and strive for crisp, clear lines in your illustrations.
Feel free to engage ChatGPT in a separate conversation to describe each Christmas element, weaving those descriptions into this enchanting tapestry.
✨ Watch as ChatGPT begins the creation of your stickers.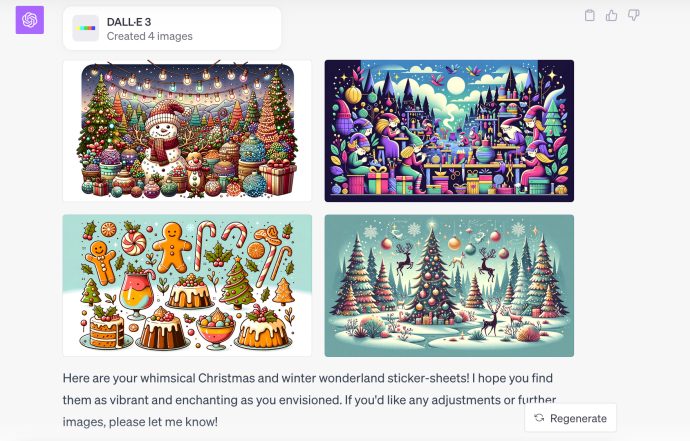 Perfection may be elusive at first. Remember, the key is in providing constructive feedback to refine and achieve your vision.
Initially, the stickers might seem more like a scenic composition than discrete designs.
✨ Guide ChatGPT towards your ideal outcome with specific instructions.
Once you've captured a set that resonates with your vision, encourage the generation of more, mirroring the structure you adore.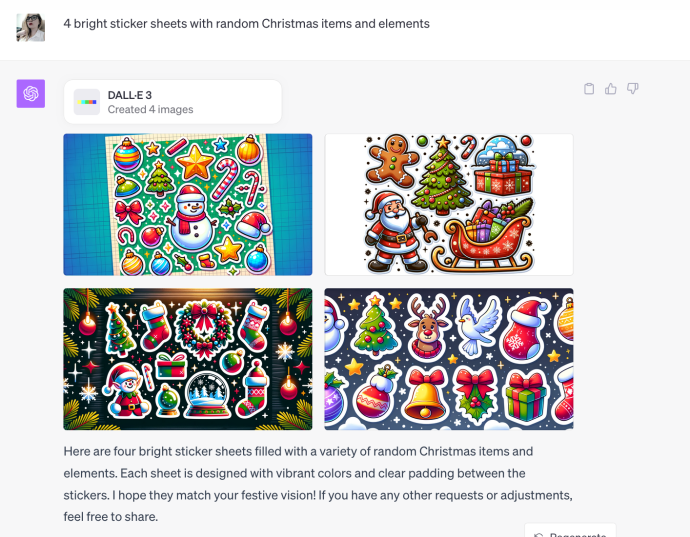 Articulating your likes and dislikes is crucial—it illuminates the path for ChatGPT, helping it understand your preferences and enhance its creative offerings. For instance, if a particular image with its kaleidoscope of colors and endearing characters captures your heart, say so!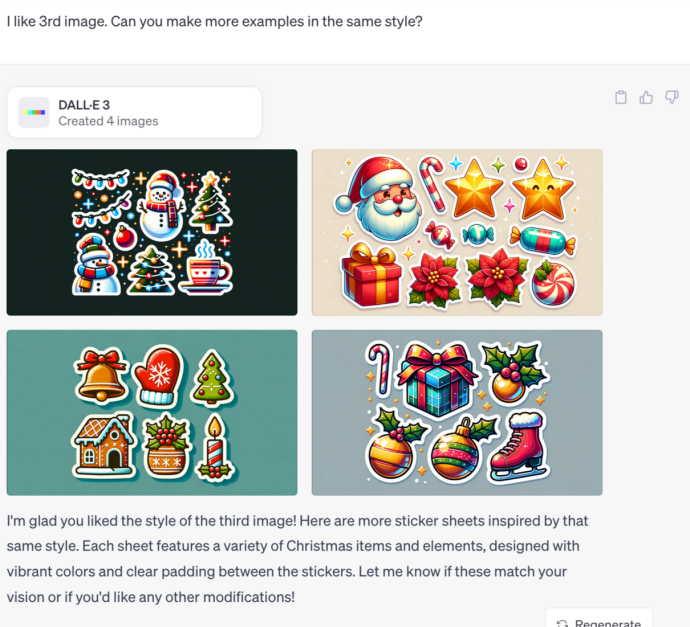 And there you have it! With these steps, you're not just creating stickers; you're conjuring up a little piece of Christmas magic. May this guide light your way to a heartwarming and successful festive campaign!