Kim Kardashian's Modern Approach to Motherhood: Hires a Male Nanny and Builds Strong Bonds With Each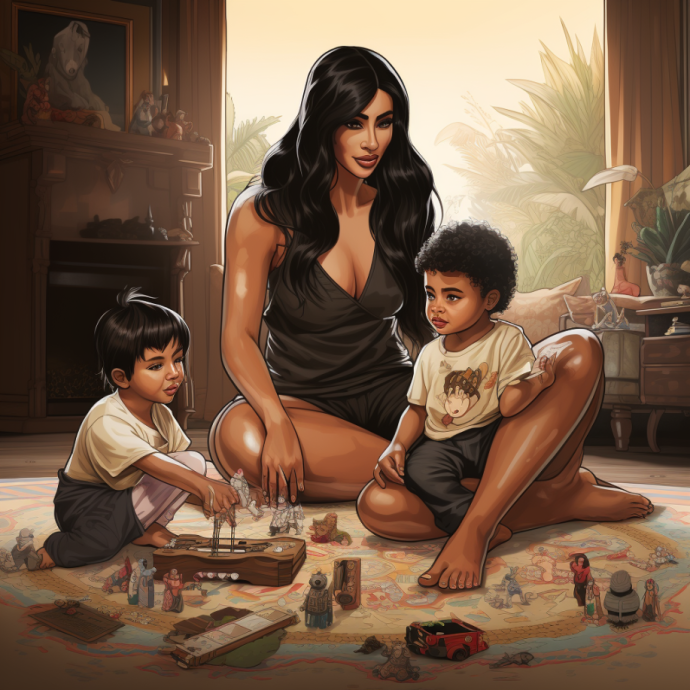 In a recent episode of The Kardashians, Kim Kardashian, who is a mother to four kids, candidly discussed her parenting style and recent family additions. At 42, Kim has found it challenging to balance her busy schedule with effective discipline for her kids, particularly her 7½-year-old son Saint.
Kim shared that her upbringing was relatively lenient, making it tough for her to instill strict rules for her children. With a schedule that's often packed, she mentioned wishing she had someone to share the disciplinary responsibilities. Instead of the traditional approach of having a female nanny, Kim opted for a male caregiver, commonly referred to as a 'manny.'
Kim acknowledged that her family setup is majorly female-centric and wanted to bring in a male influence, particularly for activities like sports and pickups. The part that made her nervous was how her ex-husband, Kanye West, would react to this decision. Surprisingly, when Kanye met the new manny, the encounter was quite positive. Kanye advised the male nanny to teach life skills to their son Saint, aligning with the fatherly lessons he would have given himself. Kim recalled being relieved and even impressed by how smooth the introduction went.
In a feature for CR Fashion Book, Kim spoke more about her motherhood. She expressed that motherhood, despite its challenges, is a rewarding experience that she cherishes every day. She also delved into how fast time seems to fly, saying it's important to enjoy each moment — even the ones that include toddler tantrums.
What sets Kim apart as a mom is her dedication to understanding and nurturing the individuality of each of her children. She also has North, who is 10, Chicago, who is 5, and Psalm, who is 4, in addition to Saint. Kim emphasized how different each of her kids is and how she loves and embraces that diversity.
To take it a step further, Kim has recently been focusing on one-on-one trips with each child to explore their interests. For instance, Saint has a keen interest in soccer, so Kim has made it a point to travel globally to watch games, all while bonding with him over the sport he loves. Kim's overarching goal for her children is to support them in being completely true to themselves.
As a parent, Kim Kardashian tries to provide the best influences and experiences for her children, while keeping an open mind and evolving in her approach to motherhood. Whether it's hiring a manny or jet-setting around the world to spend quality time with each child, Kim's unorthodox yet heartfelt parenting tactics make it clear that she's committed to raising well-rounded individuals.