Biden and Zelensky: Leaders Unite at U.N. to Rally Global Support for Ukraine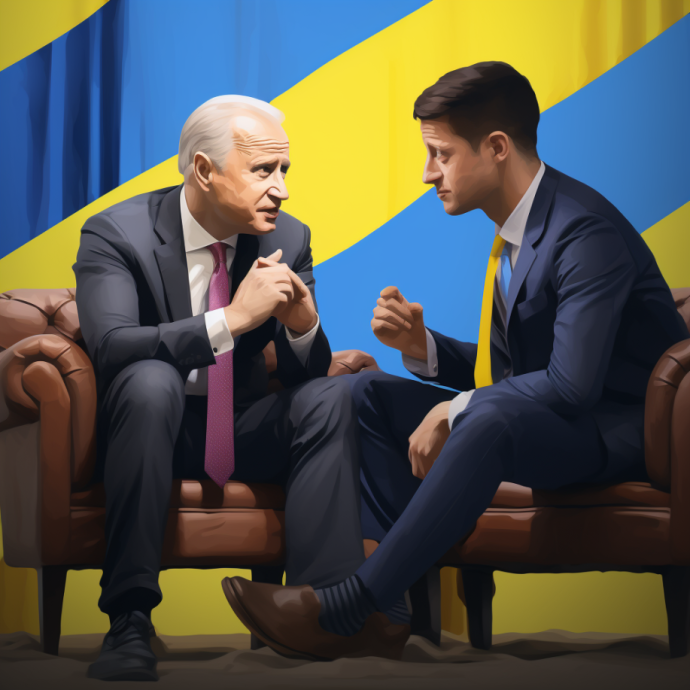 As world leaders congregated at the U.N. General Assembly in New York, President Biden laid out a concrete mission: to rally the international community around Ukraine. Achieving this goal, however, would not be without its challenges.
Despite Ukraine's earlier aspirations to present significant advancements from their summer counteroffensive during this assembly, Russian forces have successfully thwarted them. This deadlock has led to substantial losses on both sides.
The ongoing conflict has not only impacted the warring parties but has also ratcheted up food and energy prices globally. This surge has prompted a louder clamor from developing nations for a diplomatic resolution. Notably, as the financial strain of the war becomes more evident — with estimates nearing $73 billion — a section of the Republican Party in the U.S. has voiced concerns, and public support has dwindled.
President Biden is set to speak at the assembly and will be joined by the influential Ukrainian President Volodymyr Zelensky. Zelensky's main message? Highlighting Russian transgressions and emphasizing the importance of upholding the United Nations' foundational principle of territorial sovereignty. The intention behind this message is to resonate with countries that fear coercion from more powerful neighbors.
According to the White House national security adviser, Jake Sullivan, the upcoming week will serve as a platform for President Biden to not only grasp Zelensky's perspective but also to assert his unwavering commitment to Ukraine.
An interesting turn of events at the assembly was the noticeable absence of several significant world leaders. Both Russian President Vladimir Putin and Chinese President Xi Jinping, along with his chief diplomat, Wang Yi, were missing. This void offers Biden and Zelensky a unique opportunity to lead discussions, particularly with leaders from the often-overlooked regions of Africa, Asia, and Latin America.
One of the most anticipated interactions will be President Biden's engagement with Brazilian President Luiz Inácio Lula da Silva. As a staunch advocate for the Global South, Lula has previously condemned the West for escalating the conflict in Ukraine and has voiced the need for peace.
Yet, the U.S. stance remains steadfast, with Sullivan reiterating the country's commitment to aiding Ukraine militarily. This support aims to put Ukraine in a position of strength both on the battlefield and at the negotiation table.
Current intelligence assessments cast doubts on Ukraine's capability to advance their offensive. NATO Secretary General Jens Stoltenberg conveyed a similar sentiment, indicating that a swift resolution to the conflict might be out of reach.
Contrary to this year's scenario, the previous U.N. assembly saw Ukraine arriving with a more positive outlook, having regained some territories. Senior U.S. officials, including Gen. Mark A. Milley, have expressed confidence in Ukraine's continued progress.
However, a considerable portion of the Global South harbors reservations about an indefinite standoff. Their economic and diplomatic ties with Russia make them hesitant to impose Western sanctions, especially considering potential economic repercussions.
On another front, Iranian President Ebrahim Raisi, who attended the assembly, expressed his nation's disapproval of the war in Ukraine. When probed about Iran's military aid to Russia, he responded ambiguously, citing the historical intricacies of their relationship with Moscow.
Aside from Ukraine, President Biden's address will encompass his administration's achievements in global leadership. His scheduled interactions include a meeting with Israeli Prime Minister Benjamin Netanyahu, and a collective dialogue with leaders of Central Asian countries, often dubbed as the "Stans". Discussions are expected to focus on trade, climate change, and regional security. A conversation with U.N. Secretary General António Guterres is also on the agenda.
Concluding the New York meetings, Zelensky is set to accompany Biden to Washington. Their primary objective? Lobbying for Congress's approval of an extensive financial package for Ukraine, which includes provisions for military aid, humanitarian assistance, and governmental financial support. Despite some opposition in the House, the consensus is that Zelensky's presence and advocacy might tilt the scales in favor of the funding request.
In conclusion, Jake Sullivan acknowledged President Zelensky's prowess as an advocate for his nation, emphasizing the need for international collaboration to address Ukraine's pressing concerns.